Edwardian Engagement Rings
Are you looking for info on Edwardian Engagement Rings? Planning a romantic proposal is quite hard but with Edwardian engagement ring, you don't have to say a thing, the ring itself is a symbol of love, commitment and loyalty. The true nature of this ring is to be romantic in every thing, just like the details crafted to the band and the center precious stone.





The Edwardian era was a period of extravagance, exquisiteness, and romanticism from jewelry making to fashion. Every design was crafted with lavishness and intricacy; fit for a royalty. This era was during the time of King Edward VII, from 1901-1910, though Edwardian designs lasted until 1920.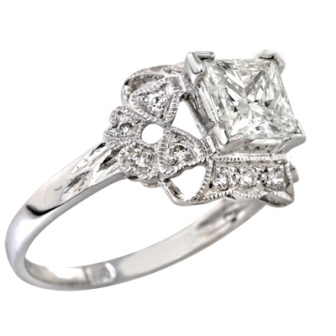 You can easily distinguish Edwardian diamond rings because of their unique details and romantic appearance. Filigree patterns in elaborate designs are always present in an Edwardian ring. You can see romantic images such as birds, flowers, bows, hearts, and vines are merged in the filigree patterns. There are also curved circles and arches to harmonize with the filigree and scrollwork spread over the surface.


Shop For Engagement Rings
Save 10% of your engagement ring setting with coupon code RING10

Edwardian antique engagement ring settings are very simple. The most common settings that they use are prongs and bezel setting. Accents are all over the surface of the ring from the band up to the side and crown part of the ring. Round cut diamond is the most famous cut; the use semi-precious stones as the focal point are very limited during this era but a few would be seen such as aquamarine, sapphire, and ruby. The commonly used metals for jewelry making in this era are silver, white gold, and platinum; yellow gold are not often use to craft Edwardian diamond rings.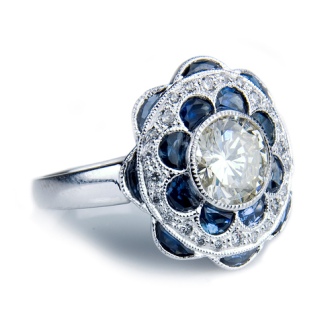 If you're looking for an authentic Edwardian antique engagement ring, you'll mostly find it in an auction because they are pretty rare and expensive today. On the average, you'll most likely to spend $6,000 to $12,000 to have a vintage Edwardian engagement ring.


But there are modern Edwardian diamond rings which are carefully crafted and designed to have the same look as before. You can easily purchase the modern ones because they are readily available in local jewelry shops and online shops. Expect the ring to be a little expensive because of the craftsmanship placed on every ring to make it like an authentic Edwardian engagement ring with high quality and style.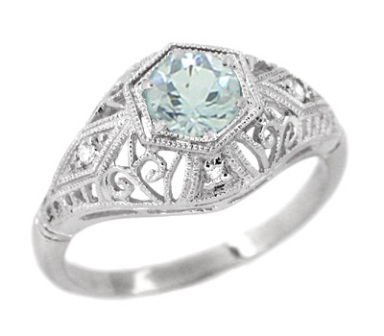 Edwardian engagement rings are in fact a work of art. With the details and craftsmanship placed to have a strikingly gorgeous ring, you can never go wrong with this one and any girl would be delightful to have this ring on her finger for the rest of her life.





Subscribe to our free monthly newsletter today! All subscribers get access to a free wedding planning ebook.
Wedding Ideas Newsletter
Share your wedding stories today! Share wedding planning stories and your ideas today. Share what you know and ask our readers for their advice and thoughts on your questions and ideas!
Wedding Stories and Advice
Ready To Shop? Check James Allen's Impressive Diamond Ring, Wedding Ring, Wedding Band and Fine Jewelry Collection Today! You Will Not Be Disappointed!
Save 10% of your engagement ring setting with coupon code RING10
Leave Edwardian Engagement Rings and Go Back Engagement Ring Styles
Go Back To Wedding Ideas
Looking For Wedding Ideas? Search This Site For What You Are Looking For!


Custom Search